As a technology services-focused investment firm, at Alten Capital we track the performance of publicly-traded digital engineering companies. A select group of public companies we track include EPAM (EPAM), Globant (GLOB), Thoughtworks (TWKS), Endava (DAVA), CI&T (CINT), Grid Dynamics (GDYN) and AgileThought (AGIL) (listed by 2023E Revenue).
---
By now these companies have reported their full year 2022 results and in some cases shared their 2023E outlook. Below an update on valuation and operating metrics.
Although at Alten Capital we operate in the private markets, it is insightful to see what is going on with larger publicly-traded digital engineering companies. Each of these companies is unique, and this uniqueness impacts the way public market investors view each business. Some of the dimensions that will impact value can be: type of revenue, geographic revenue, revenue by industry vertical, types of customers, customer concentration, organic versus inorganic growth rates, gross margins, EBITDA margins, types of services provided, types of engagement, headcount footprint, employee attrition, organizational productivity, go-to-market maturity, and several other quantitative and qualitative characteristics.
We also cut the data to view valuation relative to growth. The bubble size reflects the company's Enterprise Value. From the chart below, we can see that CI&T is the highest growth company of this group, and Thoughtworks the lowest (Endava the most expensive, while AgileThought the least). Globant has the highest growth relative to its size.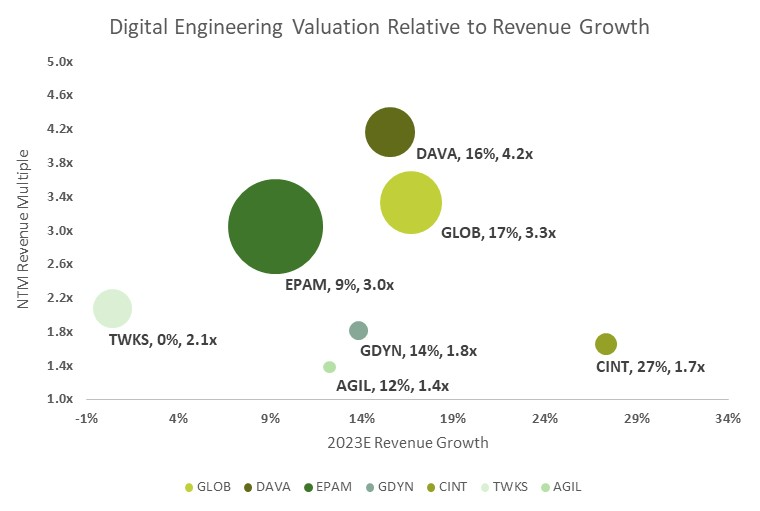 We can also view this data through a profitability lens (below). AgileThought is the least profitable company, while Endava has the highest 2023E EBITDA Margin. CI&T is the least expensive name, relative to its margin profile.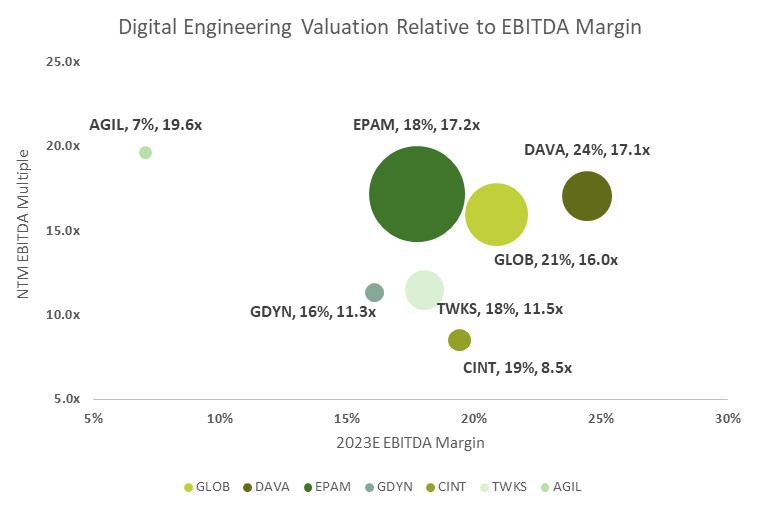 At Alten Capital we enjoy spending time in the technology services space. We want to connect with founders and management team members in IT services, and other fellow investors. Please reach out to us to discuss.