As companies embark on digital transformation efforts, they are attempting to evolve their business models and products to open up new markets or get closer to their existing customers (interact with their users the way users want to interact with those organizations). Customers value digital interactions with companies, through the devices that they own, those being a computer, phone, connected car, etc.
---
For a company to achieve these strategic digital goals, management needs to create internal tech capabilities or bring external assistance from consulting firms that will help the organization define and execute on this journey. From the consulting firm's standpoint, who are we helping (who is the buyer of my services)? Is the strategy already defined? Have the products been ideated? Is the tech team in place to execute?
Stakeholders at different levels of an organization will have different needs. The company leader will want to make sure the new investments they are making fit with the overall strategy and generate value. The product leadership, one level below, will want to succeed in launching and iterating on the new product plans, while managing the budget they have been given to execute. A VP or manager, another level below the product leaders, will want to make sure the teams, tools and processes they have in place are appropriate to hit management's goals.
It is important for technology services companies to assess their go-to-market strategies and understand who is the buyer of their services. Are we selling strategy work to the CEO? Are we selling a product vision to the Chief Product Officer? Are we completing teams for a Director of Engineering? Each buyer category could have different success criteria for what they expect from the services vendor.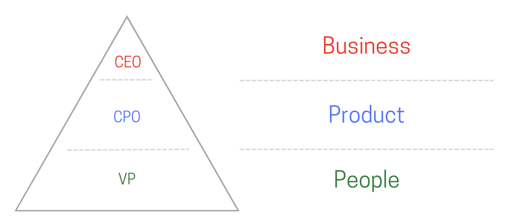 Business
If technology is not the core competence of an organization, it is common for that company to bring in consultants to assist with these digital transformation initiatives. The decision to invest in digital was probably made by the CEO or top leadership of the company or business unit (depending on company size). Strategy consulting firms or management consulting firms may have helped the CEO arrive at these master plans.
Product
As the company solidified their plans to grow digitally, the product organization or business unit is tasked with ideating the product features and refining the value the user will gain from using the product, plus the value the company will realize from launching the new product. Digital transformation firms will take the strategy that was previously outlined and help create the product. In some cases we find product ideation firms, with strong expertise in user experience (UX) helping create and define the product.
People
Finally, an organization may have the strategy in place, might have embarked on software product development, and may realize there is a need to complement internal teams with additional external roles. At this level, a technology services vendor may be offering dedicated teams to their customers, focusing on providing the high-quality talent their customer requires in a staff augmentation model.
As a company founder or organizational leader, it is extremely relevant to understand who is the ideal buyer of your services, and position your company's offerings accordingly. Each type of buyer will interpret value in a different way and will expect a distinct selling approach. Even at the same customer company, you may end up selling different solutions to different stakeholders.
At Alten Capital we enjoy connecting with technology services businesses that have strengths at each of these levels. Please reach out to us to see how we can partner to help you scale your business.